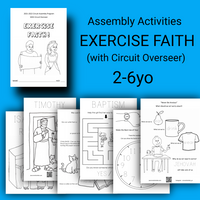 Why Use Our Convention & Assembly Notebooks?
Parents won't have to beg their children to sit still and listen. They will be delighted to do this all on their own with the help of Convention Kids. We do all the hard work for you, so that you can relax by knowing your entire family is getting the most out of every convention.
We provide many languages
We have products in English, Spanish, French & Dutch currently on our website.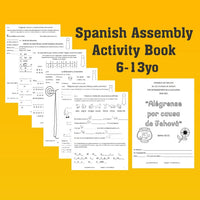 Testimonials
We just adore all the work you do and the effort you put into your products. Between our family we used all 3 sets of age group sheets. They especially help my 11yo who gets distracted easily to follow along

Mauve
I love that they are in Black & White and that she makes the PDF in half sheets or a full sheet of paper. I also love all the different languages. Thanks for your hard work and for making it easy. My kids loved it this past weekend at assembly. 

Britney
This is such a great tool at a great price!!! I can teach my son to read and learn from the Bible in a very fun way. Thank you for putting this together at such an affordable price 😊 

Marian
This was so great for our 1 Day Circuit Assembly. My two children enjoyed it throughout the day. EVERYTHING tied into the program. It was such a great way to keep the focused on something while still learning about Jehovah.  

Iman
Love them! I've been using the Bible reading worksheets as part of the kids meeting prep for over a year now and they are great . Please keep making them! Thank you! 

Valerie
My 4 year daughter doesn't keep up with anything except her Meeting Book. She feels that it is especially for her and keeps her interests. My daughters 10 & 7 feel that this notetaker really helps them to stay on track during the meetings. Thank you so much. 

Marquita