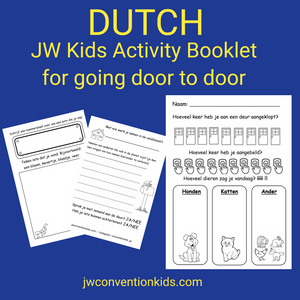 Vanaf september 2022 zullen velen van ons van deur tot deur gaan voor ons predikingswerk. Ben je opgewonden of een beetje ongerust?

Misschien maak je je zorgen hoe je kleintje ermee om zal gaan? Maak je geen zorgen meer. Ik heb dit activiteitenboekje voor uw kind gemaakt om in te vullen en hen te helpen enthousiast te worden om deel uit te maken van dit werk.

Download gewoon de PDF, print en vouw het in een handig formaat voor hun kleine handjes.
From September 2022, many of us will be going door to door for our preaching work.  Are you excited or a little apprehensive? 
Maybe you are worried how your little one will cope?  Worry no more.  I have made this activity booklet for your child to fill out and help them feel excited to be a part of this work.
Just download the PDF, print and fold it into a handy size for their little hands.