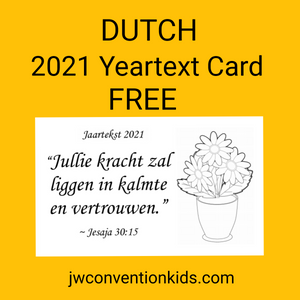 Deze tekstkaarten voor het jaar 2021 zijn geweldig voor alle leeftijden om te gebruiken, maar ik had vooral kinderen in gedachten bij het maken ervan, aangezien veel ouders vaak op zoek zijn naar iets dat hun kind kan doen tijdens het schrijven van brieven en telefoongroepen. Ik denk dat ze perfect zijn om aan te geven
degenen in de gemeente die aanmoediging en een herinnering aan ons nodig hebben
tijdige 2021-tekst.
Uw kinderen zullen genieten van kleuren op de voorkant van de kaart.
Download de pdf, vouw en kleur.
Vertel anderen gerust over deze kaarten! Ze zijn ook beschikbaar in het Engels, Spaans en Frans.
These year 2021 text cards are great for all ages to use, but I especially had kids in mind when creating them as many parents are often looking for something their child can do while writing letters and phone groups. I think they are perfect for sending to
those in the congregation who need encouragement and a reminder of the
timely 2021 text.
Your kids will love coloring on the front of the card.
Download the pdf, fold and color.
Feel free to tell others about these cards! They are also available in English, Spanish and French.