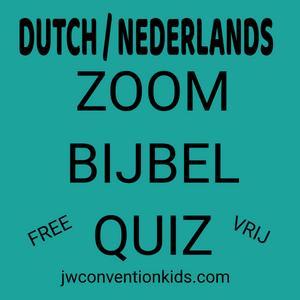 ZOOM is een groot deel van ons leven geworden. Niet alleen voor de bijeenkomsten, maar velen van ons proberen ook om te gaan met groepen vrienden om elkaar aan te moedigen. Wil je deze tijden leuker maken? Ik heb de oplossing met dit bijbelspel dat ik heb gemaakt. Dit is een spel voor alle leeftijden. Iedereen krijgt de kans om te antwoorden; niet alleen degenen met veel bijbelkennis. Alles wat iedereen nodig heeft om te kunnen spelen, is papier en pen. Veel plezier! U ontvangt een link om uw pdf te downloaden. U kunt deze direct downloaden en op uw gemak zoveel mogelijk exemplaren voor uzelf en uw gezin afdrukken.
ZOOM has become a big part of our lives.  Not only for the meetings, but many of us also try to socialize with groups of our friends to encourage one another.  Would you like to make these times more fun?  I have the solution with this bible game I made.
This is a game for all ages.  Everyone gets the opportunity to answer; not just those with a lot of bible knowledge.   All everyone needs to be able to play is paper and pen.  Have fun!
You will receive a link to download your PDF.  You can download these immediately and print off as many copies for yourself and your family at your leisure.