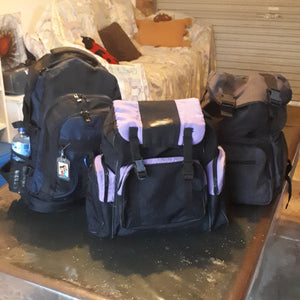 Hi All,
 
I have just updated my Emergency Go-Bag and thought I would share with you all what I have done. 
 
I am a single parent who lives in Australia with 2 children that I need to consider, so of course my GoBag list reflects this.   Previously I had to take into consideration that my children were too young to carry much, but now they are 11 & 9 years old,  I have had to adjust things and can now make them each a GoBag big enough for them to be a help. Every families situation is different, so this is just a guide. 

I have Included in this list a few sections for different situations such as:
1. Things permanently packed
2. Things to grab last minute
3. What to grab if we can take our car
4. A don't forget list of things, such as locking up the house

I will tell you how I remember to replace the food I pack, and how I ensure that the clothes packed away for my children won't be too small for them if the time comes that we have to use these bags, and other little tips and tricks that I found have helped me to keep my go bag packed and ready to go!
Being printed in black & white not only makes it cheaper to print but gives children the opportunity to add to the pictures or to color them in.

Please note that these notebooks are in PDF FORM ONLY. These are not a physical product and so there will be no product shipped to you. Upon purchase you will get a link to download your PDF notebooks. You can download these immediately and print off as many copies for yourself and your family at your leisure. The PDF files come in a ZIP file. Please open the ZIP file to get your purchase. You have the choice of printing the full size or the smaller half size.
(PDF does not print from an ipad / tablet, only a computer). To make the half size, print on one side, cut the paper in half and then put them in page order.

Please do not share this PDF file with your friends, instead please direct them to the website where they can purchase their own.

You can also follow me on Instagram under the name: conventionkids_jw OR Facebook: JW ConventionKids Group. These are both linked at the footer of the website. I regularly post on these and so you can keep up to date on my new products. You can also sign up to my newsletter at the bottom of the page to get emails whenever we have a sale or a new product.

I hope that this free packing list might be a help to some of you. 


Warm Christian Love,

Karyn Driscoll