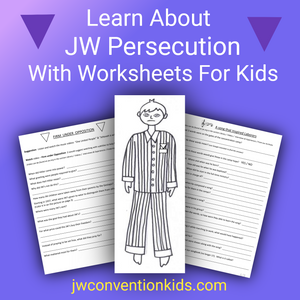 Worksheets for JW children to learn about the Percecution of Witnesses.
Worksheets based on the following videos on jw.org
   - Firm under oppostion
   - A song that inspired Laborers
I made these worksheets for my 12yo girl and 13yo boy, whom I homeschool.  I wanted to help them learn the history of JW persecution in the hope it will prepare them for any possible future persecution and appreciation for what our brothers have been through and are going though now.
Watching the music videos "One United People" and "Jehovah is with you" inspired me to want to make these.  I hope your family also benefits from these worksheets.