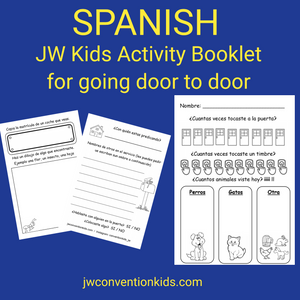 A partir de septiembre de 2022, muchos de nosotros estaremos yendo de puerta en puerta para nuestro trabajo de predicación. ¿Estás emocionado o un poco aprensivo?

¿Quizás te preocupa cómo se las arreglará tu pequeño? No te preocupes más. He hecho este folleto de actividades para que su hijo lo llene y lo ayude a sentirse emocionado de ser parte de este trabajo.

Simplemente descargue el PDF, imprímalo y dóblelo en un tamaño práctico para sus pequeñas manos.
From September 2022, many of us will be going door to door for our preaching work.  Are you excited or a little apprehensive? 
Maybe you are worried how your little one will cope?  Worry no more.  I have made this activity booklet for your child to fill out and help them feel excited to be a part of this work.
Just download the PDF, print and fold it into a handy size for their little hands.